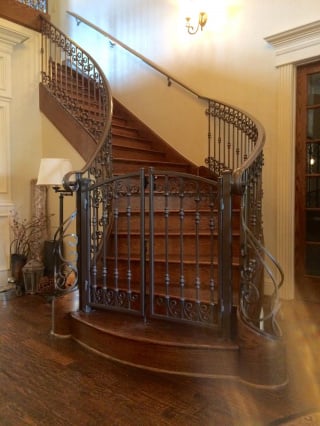 Wrought Iron Gates in Frisco, TX
Dreaming of custom wrought iron gates for your home? Need durable, attractive wrought iron fencing for your commercial property? No matter what you can think up, North Dallas Wrought Iron Doors LLC can bring your idea to life. For more than two decades, we've crafted, installed and repaired gates, furniture, yard art and more, delivering quality craftsmanship with every project.
Wrought Iron Fabrication and Repairs
When it comes to wrought iron fabrication, there are few companies out there who have the capabilities of our skilled team. We're a versatile fabrication shop that can craft just about anything you can think of in premium-grade steel. We design, manufacture and install unique custom wrought iron products from railings to art, gates to furniture. Here's just a sample of what we can make for you:
Baby gates
We have the capabilities to take on larger projects for commercial clients.
Bar/restaurant furniture
Driveway gates
Entry doors
Fireplace doors
Furniture
Railings
Storm doors
Wall art
Wine cellar gates
Yard art
Iron Repair
Got an old wrought iron gate that's seen better days? Is your iron entry door looking the worse for wear? In addition to our superior iron fabrication work, we also offer a full range of repair and refinishing services. No repair is too big or too small for us to handle, and we're highly skilled at repairing gates, fences, security doors, furniture, trailers, axlesand much more. We fix rusting, bent pickets, fading color and much more, going beyond surface welds and ensuring all of the essential components of the original piece are connected and stable.
Contact Us Today for Custom Ironwork
North Dallas Wrought Iron Doors LLC has been delivering excellence in ironwork in Frisco, TX for over two decades. Whether you're dreaming of a stunning wrought iron fence for your home, or you need custom iron furniture for your business, we design, manufacture, install and repair custom iron products that are functional, beautiful and durable. Contact us today at (214) 603-2319 for a free consultation.